For misalignment of the kneecap
Bauerfeind's GenuTrain® P3 relieves pain and inflammation caused by misalignment of the kneecap and pain radiating from muscles, tendons and joints around the knees.
GenuTrain P3 braces and supports protect, secure and stabilize the kneecap during each and every movement. Together with a corrective strap, the integrated ring-shaped pad holds the kneecap securely in a natural, central position and prevents any drifting, while a second, wedge-shaped pad encourages relaxation of tight muscles in the outer thigh.
Comfortable, effective pain relief
The GenuTrain P3 support exerts gentle compression, which provides a soothing massage effect while also reducing swelling and pain. If you have a tight IT band, the GenuTrain P3 support helps relax the muscles on the outside of the thigh to relieve pain. The breathable knit contours to your body shape, to encase the knee perfectly, and adapts to every movement without slipping or constricting.
Maintain your active lifestyle free of knee pain, with GenuTrain P3 braces and supports for misaligned kneecaps.
Components
Muscle-relaxing pad - Reduces sideways pulling of the kneecap to further reduce pain and relax the muscles with soothing massage.

Corrective guide - Stops your kneecap from drifting outward to relieve discomfort and help healing without loss of mobility.

Patella cover - Counteracts the tilting of the patella

Corrective strap - can be individually adjusted for optimal kneecap control

Pad wing - Proximal extension as far as the vastus medialis muscle, improved proprioception

Ring-shaped soft pad - Surrounds the kneecap to center it for stability.

Wedge-shaped Hoffa soft pads - Two pressure points on the pad relieve strain on the area below the knee, which frequently causes pain.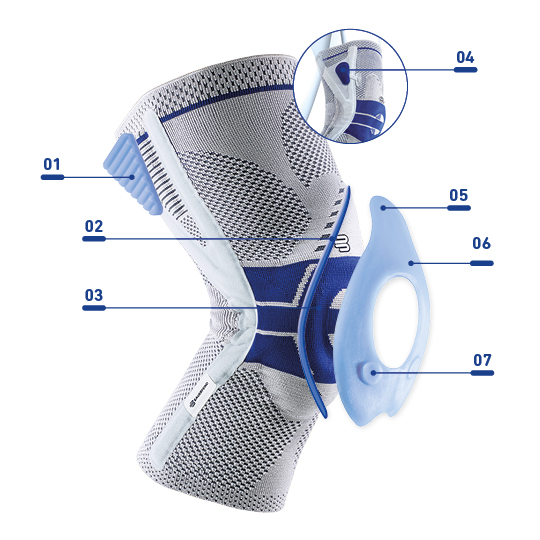 Treatment of
Knee cap tracking problems (lateral tracking problems)

Knee cap dislocation (or subluxation)

Runners knee

Tight IT band

Patella femoral syndrome (or pain)