Pain relief for injured or strained shoulders
Bauerfeind's OmoTrain® braces and supports stabilize the shoulder joint and provide secure stability during movement.
Proprietary design for relief of shoulder pain
Bauerfeind's OmoTrain braces have a unique design that guides and centers the arm in the socket so the shoulder maintains proper natural movement without impacting mobility. The support is easy to put on and take off thanks to its high elasticity, and it is secured to your upper body with a soft strap.
OmoTrain supports you during movements such as lifting of the arm. Your chest and back areas are left free, so the support is particularly comfortable to wear.
Relieve pain and discomfort
The full pain-relieving effect of the support is produced during movement. As you move, the OmoTrain support activates the muscles and gives an intermittent massage on the soft tissues. You can also use a removable pad for additional massage effect on specific pain spots.
The soft knit fabric delivers the ultimate in comfort. It is also machine washable in the gentle cycle, which helps maintain its elasticity and original fit.
Relieve it, with OmoTrain shoulder braces and supports.
Components
Soft knit fabric - Breathable knit is comfortable to wear, gentle on your skin and keeps moisture away from the body. It is machine washable in the gentle cycle.

Viscoelastic soft pad - Massaging nubs reduce swelling and relieve pain in the soft tissue.

High elasticity - Makes it easy to put the shoulder support on and take it off.

Strap system - Secures the brace to your body and centers the shoulder for stability and pain relief.

Pressure-reduced edges - Less compression at the edges for an optimal and comfortable fit that improves circulation.

The special chest-free wearing system - leaves the chest area free and does not restrict breathing, ensuring excellent wearing comfort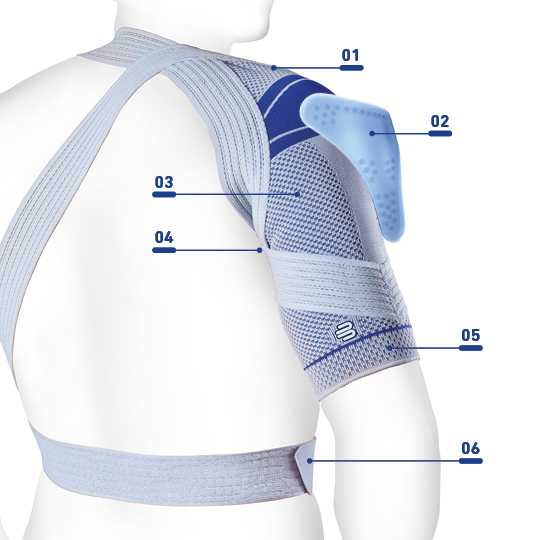 Treatment of
Shoulder arthritis

Shoulder instabilities

Shoulder pain

Shoulder swelling

Shoulder tendinitis